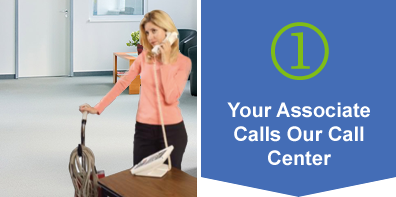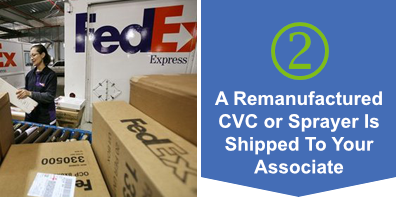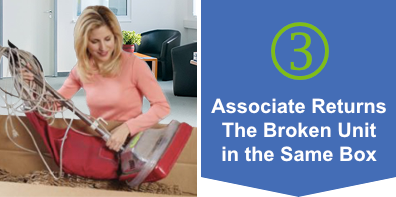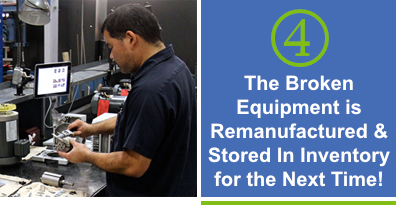 Your fleet of vacuums will regularly need to be either repaired or replaced. The VSI Global Vacuum Cleaner Sustainability Program™ ensures that your vacuums are properly maintained in good working order, saving you thousands per year on replacement costs.

Once trouble is detected, simply contact us and we'll fix it over the phone or send you a completely remanufactured vacuum from your company's dedicated fleet. Send back the broken vacuum in the same box, and we'll repair it to factory specifications and hold it for you in our warehouse, in your dedicated inventory, so it can be quickly swapped out with then next broken one.

When it comes to our repairs and maintenance on your vacuums, we're not just "repairing" one part we're remanufacturing the entire unit. There's no other program that can keep your locations safe, clean, and your CVC fleet in top working order as the Vacuum Cleaner Sustainability Program from VSI.

Our Process In Detail:
Experiencing a commercial vacuum problem, your associate calls our call center.
Our team diagnoses and instructs the repair of the unit over the telephone, or immediately ships a replacement unit to your associate.
Your associate receives the replacement unit and ships us back the damaged unit in the same box, using the included pre-paid label.
We remanufacture the damaged unit and place unit back in your company's dedicated fleet, ready to send out the next time a damaged unit is reported.

Main Program Benefits:


Coordinate retrieval of all broken commercial vacuum cleaner's (CVC) at your locations.
Managing logistics back to VSI's remanufacturing center.
Ensuring there are working units at your locations.
Responding to all communications regarding the units from your locations.
Addressing 30% of all CVC issues using our toll-free call center support.
Remanufacturing your broken units.
Timely fleet activity reporting.
Environmentally Responsible
By repairing rather than replacing damaged vacuums, our Cleaner Sustainability Program™ has kept over 11,500 tons of trash out of landfills since our program began in 1994.